Satelligence - Designing a data-driven platform
Satelligence is a remote-sensing company that uses satellite data to observe (changes in) natural capital. They provide their clients with actionable insights from this geo-data. The goal for this project was to design an interactive platform that helps Satelligence's clients interpret and act on the data provided.
The project
Satelligence tracks geodata received via satellites from various data sources. From this data, they distill accessible information to aid their clients in monitoring their areas of investment. So far, they provided this information via extensive but passive PDF documents. The goal for this project was to create an interactive platform that will allow Satelligence's customers to more easily digest the vast amount of information and take the required actions right away.
To guide this project and get to a valuable result for both Satelligence and their key target audiences, we explored their business, users and data extensively. I led many interactive sessions with Satelligence, and together with the UX consultant I helped define and shape their product strategy, This included allowing customers to 'build' their own product by choosing data building blocks relevant to their specific needs.
My tasks
Helping define business & product strategy
Analyzing & reframing the data model
Defining concept story, directions & principles
Designing user experience and interactions
Conducting user research
Leading workshops and presentations for the client
Data model
The main focus of this project was to understand and focus the vast amount of data provided by Satelligence. In order to do this, I explored the available data points and translated them into a clear data structure. Relevant data points were grouped according to topics that related to the overall user goal; determining if their areas of investment are at risk of being exposed to deforestation. This was aimed at providing a story behind the data and driving value for customers of Satelligence.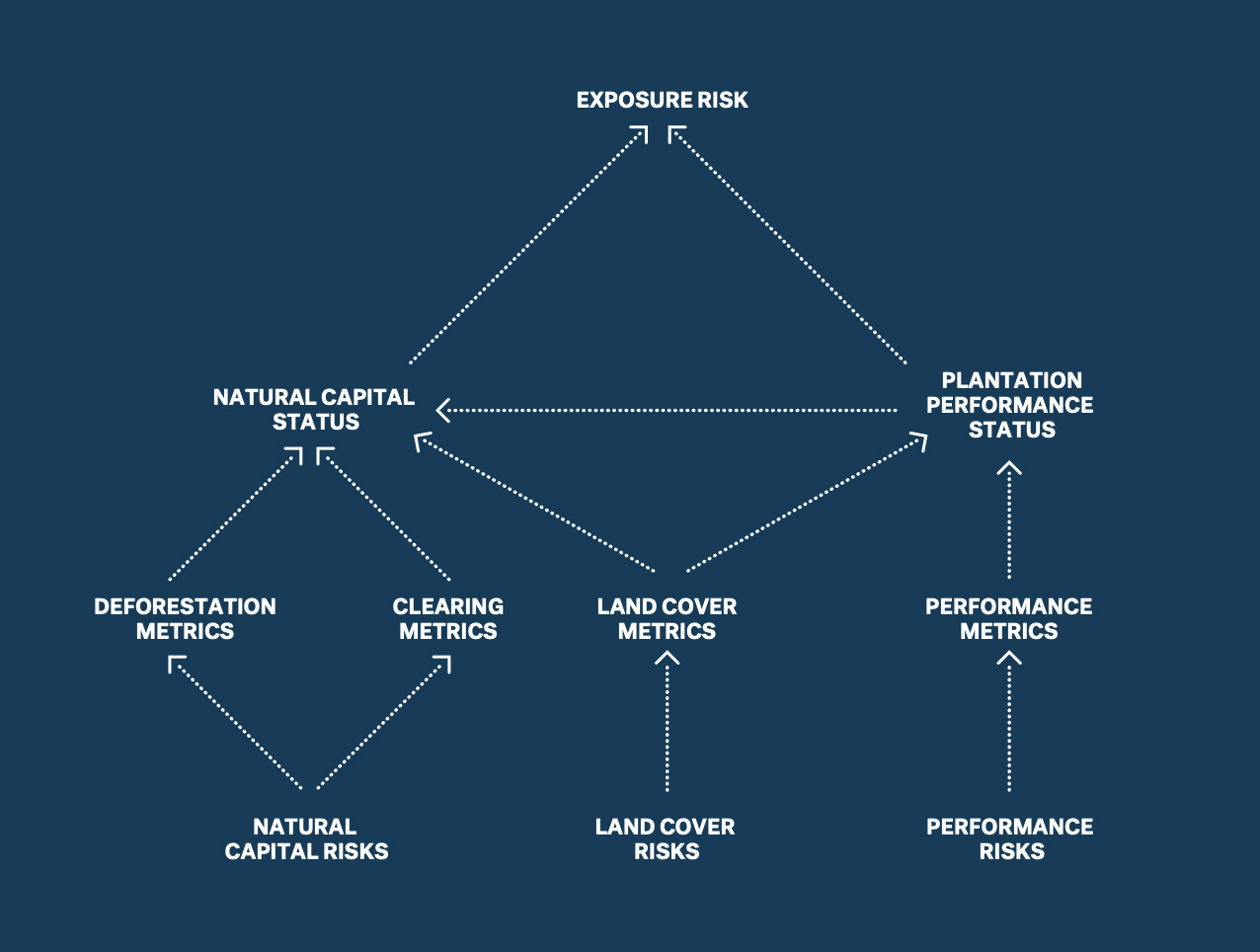 User reserach
Unfortunately, it was not possible to directly talk with users in the first stages of this project. Instead, I explored the various target users for this system together with Satelligence. We investigated the main user goals and needs for each the target users and mapped them in relation to the available data.
After this exploration, we decided to focus on the Sustainaility Manager for this first concept. This audience would gain the most value from this interactive dashboard, as they are responsible for making sure their company lives up to the current sustainability regulations. The main user tasks supported by our concept included: getting a quick impression of the current situation, easy investigation and inspection of critical areas and investigation of specific sources to report on their status. To understand what each of these tasks entailed, I created a chart detailing out each user need.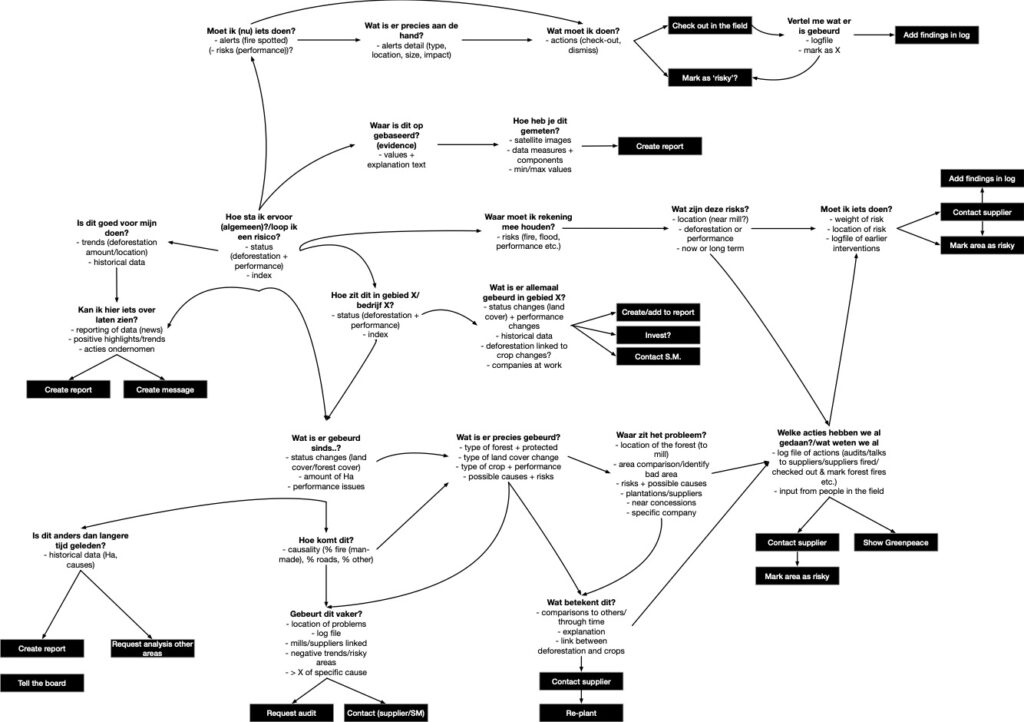 Design process
Together with a visual designer and UX consultant, I explored various concept directions providing different options for presenting the data. As the lead interaction designer for the project, I created the primary user flows for the concept to specify the most important user tasks. I made priority guides and quick sketches of the main pages, focussing on the required content and story-telling through the data. The visual designer who designed the visual concept used these as input for the design of the various pages.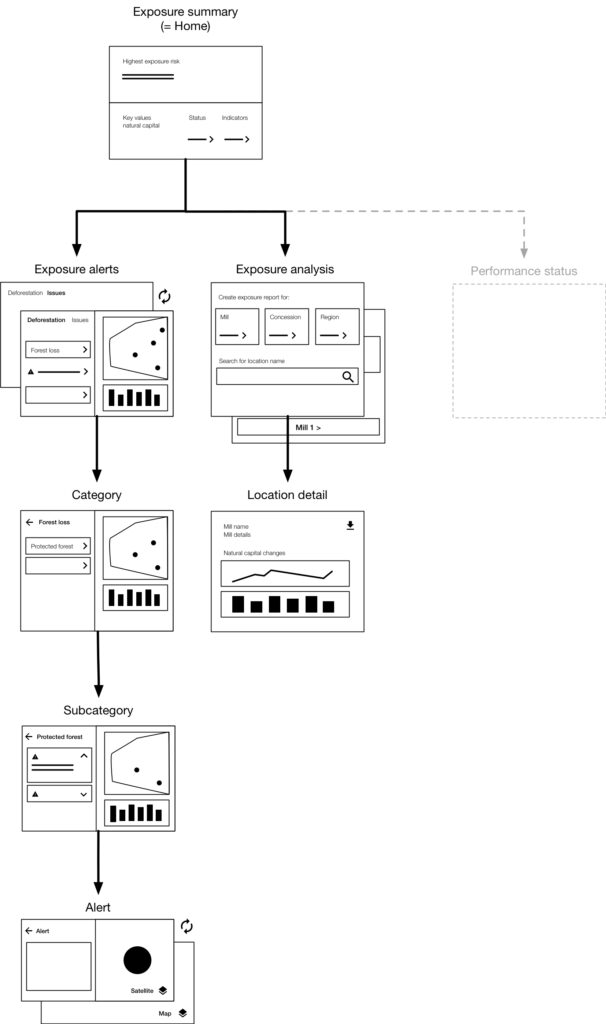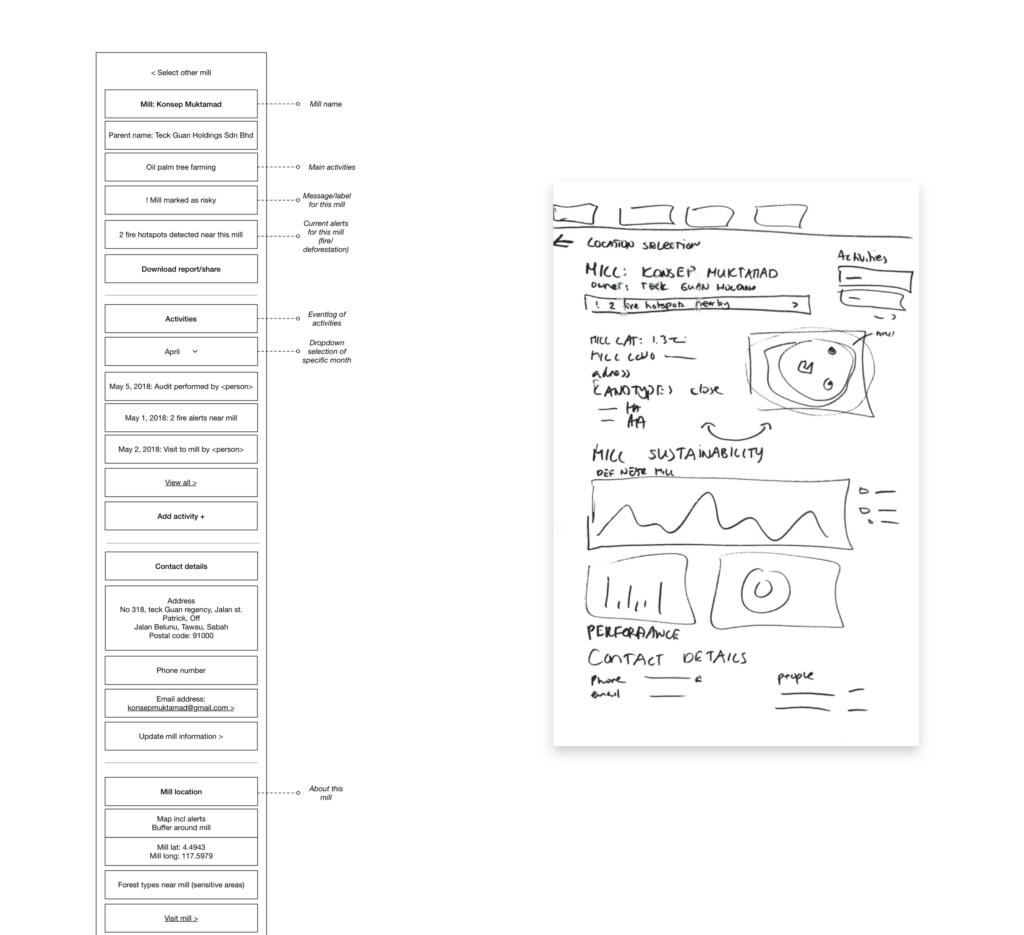 During the project, I also conducted several user tests to grasp user needs and first impressions of the concept. I performed interviews and a concept test with our first draft of the concept. Their feedback was integrated into the final concept.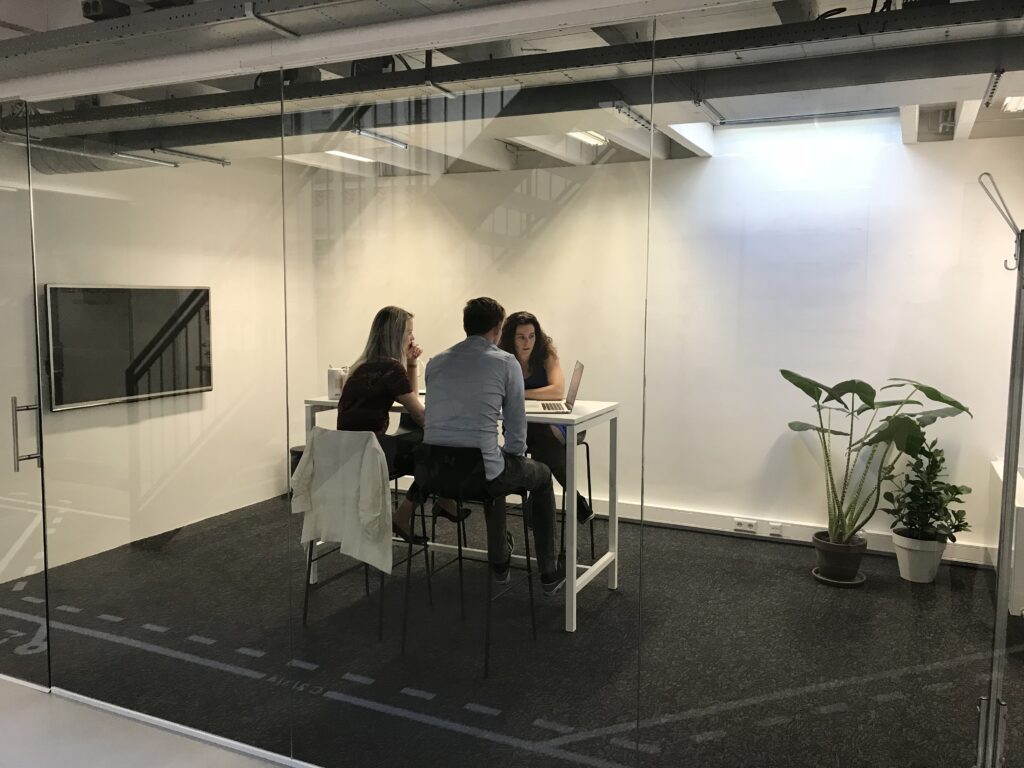 The result
The final concept provides an explorative and actionable risk-overview based on the available data structures. It focusses on highlighting what is most important in an informative way, allowing the user to investigate the various underlying data points. in this way, it allows users to explore the data more easily and guide them in their daily tasks.